Custom Dance Shoes
What can you customize?

Heel - We offer a variety of heel options that you can custom order. See the heels and heights on the chart below.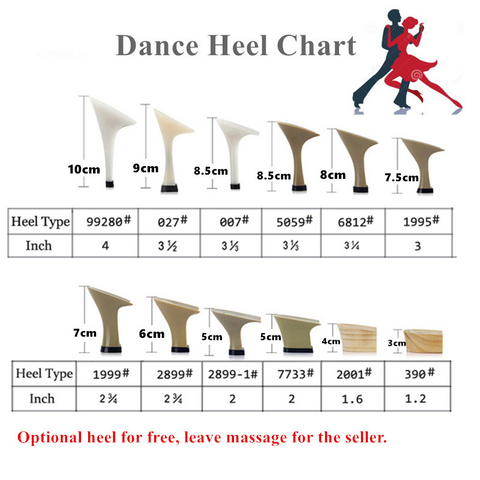 Color - You can select a different color than what we offer for your shoes.  Please check the products on our website to see all the different colors you can select.  If you want a color that is not shown on our website you can email us to see if we have a specific color that you are looking for. We have hundreds kinds of colors for your choose.
Sole - Soft Suede outsole to be used indoor. If you need outside, please add subber outsole.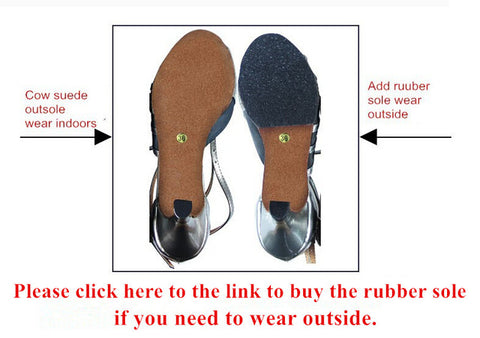 Material - In some cases you can request a different material.  Not all styles work in all materials so this would need to be approved before we can actually confirm.  Please email your request and we will let you know if it is possible.
Design - We can customize your own pattern if the products on our website you do not like. Please email us to further communication.
Price - There is no extra price if you only need to change heel or color.
            If you need to change suede sole to  rubber sole, will need extra $5.
            If you need yo change material or design, extra price will be various from different material and design.
Contact - Email:danceshoesmart@gmail.com
                 Whatsapp/Tel: +8618240308815
Total time = processing time +Shipping Time
Order Processing : 4-7Business Days.
Postal Service: 18-28 Business Days. Freeshipping
Postal Expedited: 10-15 Business Days. US $7.9 +
Express Delivery: 6-9 Business Days. US $38.00 +
Return within 15 days from the delivered date.
Request:
1. Items received within 15 days from the delivered date.
2. Items received unused, undamaged and in original package.
1. Keep the shoes in a dust proof bag or wrapped with a soft cloth, avoid contact with solvents, acids, alkali, oils and other corrosive materials. Clean shoes regularly, avoid hard brushing and the use of shoe polish on the shoe surface; this will reduce the life of the shoe itself.
2. Artificial leather: Cleaning of artificial leather surface is relatively simple, just clean the surface with a damp cloth and then dry-wipe immediately.
3. Sanded Leather (Suede Leather): This material is also relatively simple to clean, use a clean and dry toothbrush; brush the surface in one direction.
4. Patent leather: This leather is the easiest to clean due to its non-absorbing nature. Clean the leather with a wet cloth and dry-wipe immediately. 5. Special fabric leather: To clean this type of material, use a small toothbrush dipped in mild detergent and brush on the stained spots, and then clean with a small toothbrush dipped in water. Dry-wipe with a clean cloth.
6. For other maintenance and cleaning, professional cleaning service is strongly recommended.